Part of the money awarded to me through my Chalmers Arts Fellowship for my installation, Stitched Glass, was allotted to supplies – namely, yarn. Lots and lots of yarn.
I didn't quite understand how much yarn was required to knit three tapestries, each of which is about five feet wide by eight feet high. Which makes sense, given I didn't quite understand how long it would take to knit Stitched Glass (that's thirteen years and counting).
So I started buying yarn wherever we went, wherever we saw an interesting yarn store. We have bought yarn in many places in Ontario, in Canada, and abroad.
I love hearing about terrific yarn stores from fellow knitters, so I will share a few of my favourites with you.
One is Topsy Farms on Amherst Island.
Amherst Island is a small island in Lake Ontario, 20 km at its longest, and 4 km or so at its widest. It is located about two and a half hours east of Toronto, not far from Wolfe Island and Kingston. It is only one ferry past the wonderful wine country of Prince Edward County, and so a trip to Amherst Island means delights on the island itself, but also excellent day trips both east and west.
My family lived on Amherst Island, first in the 1960s, when my father, Rev. Dr. Zander Dunn, had his first charge out of theological college at St. Paul's Presbyterian Church. I myself was born in Amherstview on the mainland across from the island. Decades later, my parents returned to Amherst Island in 2000, and lived there until 2015. My father, an amateur photographer, has captured Amherst Island at its most beautiful and peaceful.
Here are a few of his photographs: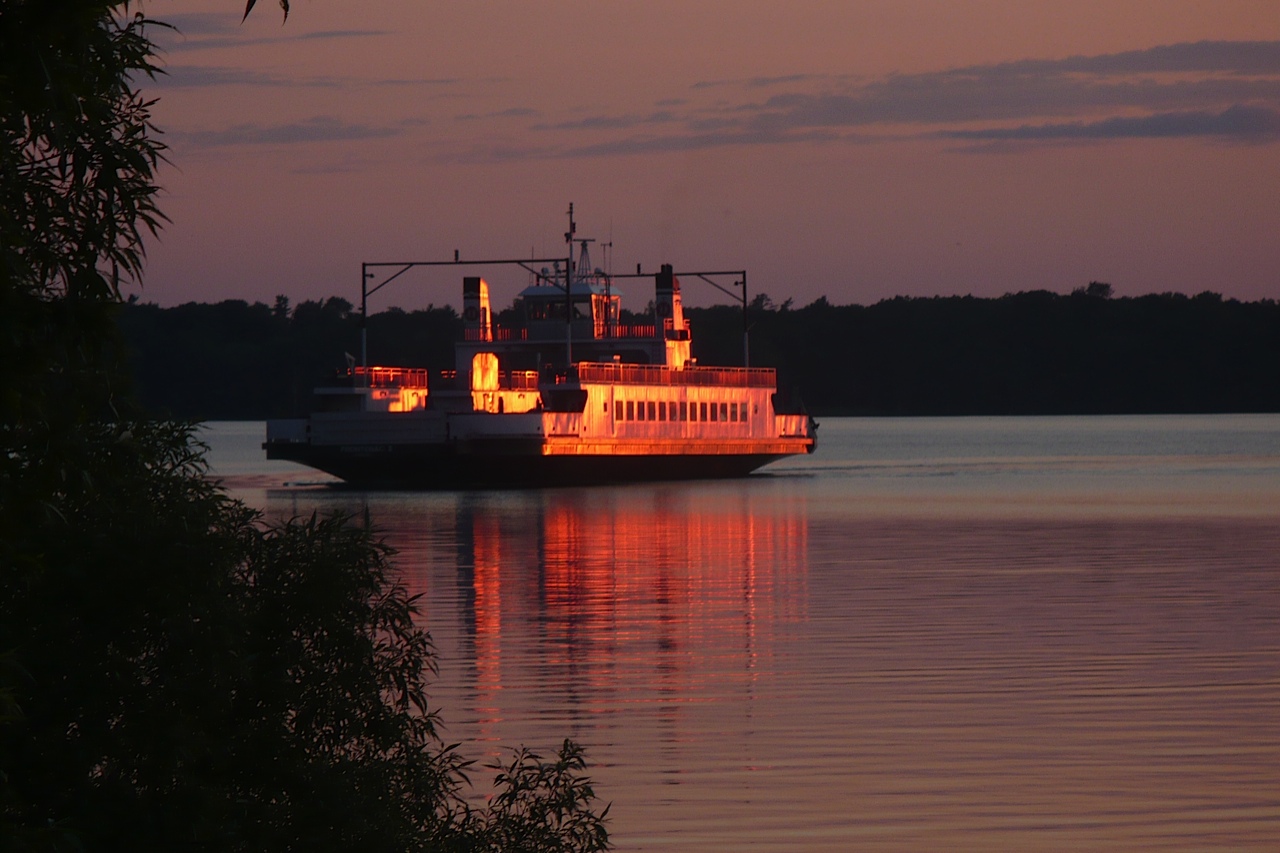 My kids' favourite activity on the island (other than swimming off the ferry dock) was visiting farms: stomping through friends' barns in rubber boots, feeding cows, horses, chickens, and barn kittens.
And lambs. Topsy Farms raises lambs – and also sells wool. So when we visited Amherst Island, and visited the Topsy Farms lambs, we'd also visit Ian and Sally and their store, The Wool Shed. It used to be a milk shed when the farm's previous owners kept their milk in cans until it could be delivered to the local cheese factory.
Now the building is filled with yarn, as well as many other wool products like wonderful blankets, wool mattress pads encased in unbleached cotton, craft supplies and honey. All you have to do is ring the doorbell – if there's no one in the Wool Shed, the bell rings in the farmhouse and someone will come on over to take care of you.
I love the atmosphere there – so relaxed and friendly. What's wonderful about Topsy Farms is that their product is truly Canadian – you can meet the very lambs whose wool is making your yarn – so, with Topsy, you know the provenance of your yarn, which is always exciting.
Topsy Farms sends its wool to MacAusland's Woolen Mills on Prince Edward Island where it is dyed and turned into yarns and wool blankets. MacAusland's is a Canadian success story unto itself, producing yarn since 1902, and blankets since 1932.
Another bonus: If you shop in person at The Wool Shed, you receive a 13% discount – they pay the sales tax.
While you can find Topsy Farms yarns at other stores in Ontario, and I can get their yarns at Yarns Untangled in Kensington Market in Toronto, I always enjoy my visits to The Wool Shed. Ian and Sally are so friendly – true of everyone on Amherst Island.
If you would like to shop at Topsy Farms, for lamb, wool, blankets or socks, here is their information:
Topsy Farms
The Wool Shed
14775 Front Road
Stella, Ontario
K0H2S0
toll free: (888) 287-3157
tel & fax: (613) 389-3444
email: info@topsyfarms.com
web: www.topsyfarms.com
I will write about more of the wonderful knitting stores I have met in my travels – please send me your faves, too, so I can feed my hungry stash.
Because of course there is more knitting to do for Stitched Glass, and so, more yarn to be bought. And, anyway, one's stash can never be too big. Am I right?
(thumbnail photo by Topsy Farms)